Custom Decorative Concrete Atlanta
Custom Design Decorative Concrete and Stamped Concrete in Atlanta
Best Custom Decorative Concrete and Stamped Concrete in Atlanta. Professional Craftsmen Design Decorative Concrete Atlanta GA is Premium Outdoor Living Design and Remodeling Company on Decorative Concrete, Stamped Concrete, and More. Stunning decorative concrete and flooring is an essential element to every luxury and high-end pool and outdoor living space. At PoolPlusPool Luxury Pools, we specialize in creating a cohesive and stylish backyard that integrates seamlessly with your existing home and luxury pool. A decorative concrete patio, pool deck, or walkway can be the perfect complement for your home. Decorative concrete patios are stylish, elegant, and most importantly affordable. Stamped and colored decorative concrete from PoolPlusPool Luxury Pools will enhance the aesthetic elegance of your home's outdoor living space.
CONTACT US TODAY FOR FREE ESTIMATE/3D DESIGN CONSULTATION
Atlanta Decorative Concrete Flooring Design and Construction
PoolPlusPool Luxury Pools is a leading design and construction company for luxury and high-end swimming pools, outdoor living spaces, and decorative concrete flooring in Atlanta. For over 10 years, we have proudly served Atlanta and the surrounding areas by designing elegant and custom backyard living areas with the highest quality materials and craftsmanship. We offer a wide array of materials, patterns, and colors to create a custom backyard exactly the way that you want it. With so many decorative concrete design options, the possibilities of what we can design and construct for your luxury outdoor living spaces are endless.
Stamped Concrete Atlanta
Stamped concrete is a simple yet elegant way to transform the concrete floors of your patio, pool deck, and walkways with a beautiful pattern that looks like each and every stone were carefully laid by hand. Stamped concrete is an excellent way to increase the aesthetic appeal of your yard's decorative elements while providing you with a cost-effective and durable flooring material that will stand up to the elements.
There is an endless amount of unique and elegant designs and textures to choose from when working with stamped concrete. At PoolPlusPool Luxury Pools, we can create just about any pattern or design for your outdoor living space that looks high-end while being more affordable than working with other more fragile materials. In addition to the visual appeal of stamped concrete, there are also functional benefits. Despite the appearance of cracks and gaps in the surface of decorative concrete, it is one solid slab that prevents grass and weeds from growing in between the stones.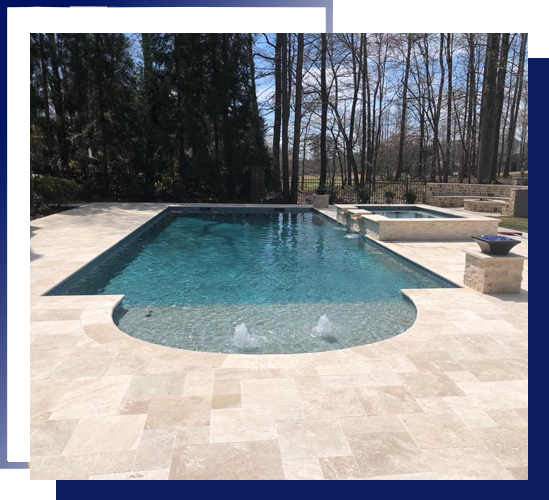 Colored Concrete
The days of using dull grey concrete to decorate your backyard are in the past! At PoolPlusPool Luxury Pools, it's our goal to create a beautiful and elegant outdoor living space for you and your family to enjoy from top to bottom. That includes the ground that you walk on. With colored concrete, we are able to add a stylish layer of decorative concrete that matches the colors of your home and the landscape of your backyard.